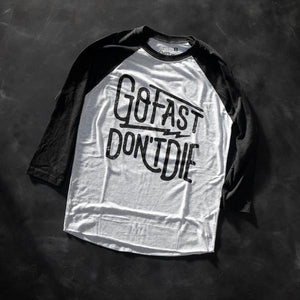 Go Fast Don't Die "The Original Raglan" 3/4 Sleeve Tee
Instead of saying "Be safe. Wear your helmet," like your mom would say… our mom said, "Go Fast, Don't Die." And so, we did.

Go Fast Don't Die is for the crowd that pulls a little more from that throttle after the assessment of risk says to back it off. It's for those who look at the map and see more than where they are but where they could be tomorrow. Go Fast Don't Die is for those who see the danger, see the risk, and see nothing in comparison to the potential of the reward. To those who hold dear that pursuit of the thrill, the best times with friends old and new, and the complete lack of a safe alternative.
Black GFDD original Raglan
HOW TO CARE FOR GFDD PRINTED GARMENTS:
Turn garment inside out.

Wash similar fabrics together (if you have the entire collection of GFDD tees, this should be easy...)

Wash in cold water on gentle cycle.

Use a mild detergent.

**Do not use liquid fabric softener**

If possible, avoid drying in a dryer. Hang or lay flat to dry.