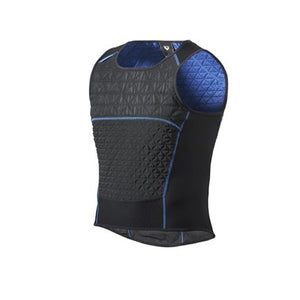 Rev'it "Liquid" Cooling Vest
As a rider's body temperature rises fatigue begins to set in, which ultimately affects bike control. The Liquid cooling vest helps by utilizing Hyperkewl™ technology, which works by absorbing and storing water, and then releasing it over time through the naturally cooling process of evaporation. Because the cooling is activated by ventilation, the better the jacket's airflow properties, the more effective the vest's cooling properties will be. For best results pair the Liquid cooling vest with a highly ventilated jacket.
User instructions Cooling products with HyperKewl™
Before the first use, please dunk the product under water, gently squeeze out the excess water and let the product dry completely. This is necessary for the cooling fibers to set into the product.
Please note, the product could feel 'slimy' because of the fiber migration after the first activation. This rinses away on the next soaking.