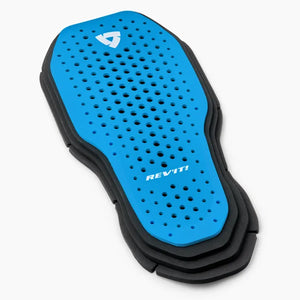 Rev'it Seesoft Air Back Protector
Extra-ventilated, CE-level 2 back protector for additional rider protection.

The SEESOFT Air is our extra ventilated CE-level 2 back protector insert that is designed to absorb variable impacts without compromising comfort, ventilation, or freedom of movement. By increasing the number and the frequency ventilation holes (there are more holes and they are bigger!) in the back protector insert, body heat and evaporated perspiration can easily escape, helping the rider cool down quicker or to keep things dry when riding in higher temperatures.

The highly impact-resistant blend of Nitrile and Polynorbornene rubber results in a memory foam that is multi-impact rated and CE certified to the highest level. In the case of severe angular impact, the individual memory foam layers will shift relative to one another, resulting in impact dispersion over a larger effective surface area, and therefore minimizing the energy that is transmitted to the spine and back. By applying a multiple-layer concept, REV'IT! has developed a flexible back protector insert that performs consistently in all conditions.
Size 03: Textile >> XS/ Ladies 34-36 / Leather >> Ladies 34-44 / Men 46-48

Size 04: Textile >> S-M/ Ladies 38-44 / Leather >> Ladies 46-48/ Men 50-54

Size 05: Textile >> L-XXL/ Ladies 46-48 / Leather >> Men 56-58

Size 06: Textile >> XYL-6XL / Leather Men 60-62