Spidi "Armor Hoodie EVO" Jacket
SPIDI Hoodie Armor Evo represents the latest evolution of the popular protective hoodie invented by SPIDI.
The CE prEN 17092-4:2017 Class A certified jacket has a built hood, removable CE Level 1 Warrior Lite armor in the shoulders and elbows, with optional Warrior back protector (CE Level 1 En 1621-2:2012). Safety equipment includes reflective details for added night-time visibility.
The Hoodie Armor Evo has an abrasion resistant 3-layer fabric chassis with a microfiber liner laminated into Windout membrane, combining lightness and weather protection.
Both the hood and waist have drawstring closures to keep the jacket firmly in place even at higher speeds, the cuffs are knitted fabric for all-day comfort while 3 zippered pockets (1 waterproof) guarantees maximum versatility.
BODY MEASUREMENT CHART
Measurements are to be taken without any clothes.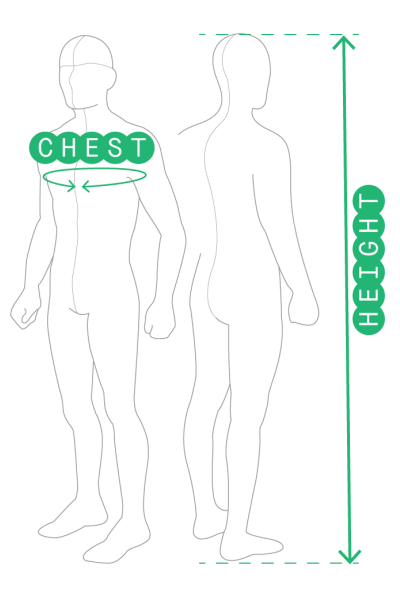 Man
Size
Height
Chest
XS
44
63 ⅜ / 68 ⅛ in
32 ¼ / 34 ⅝ in
S
46
64 ⅝ / 69 ¼ in
34 ⅝ / 37 in
M
48
65 ¾ / 70 ½ in
37 / 39 ⅜ in
L
50-52
66 ⅞ / 71 ⅝ in
39 ⅜ / 41 ¾ in
XL
54
68 ⅛ / 72 ⅞ in
41 ¾ / 44 ⅛ in
XXL
56-58
69 ¼ / 74 in
44 ⅛ / 46 ½ in
3XL
60-62
70 ½ / 75 ¼ in
46 ½ / 48 ⅞ in
4XL
60-62
70 ½ / 75 ¼ in
48 ⅞ / 51 ⅛ in
5XL
60-62
70 ½ / 75 ¼ in
51 ⅛ / 53 ½ in
6XL
60-62
70 ½ / 75 ¼ in
53 ½ / 55 ⅞ in
Woman
Size
Height
Chest
XXS
36
61 ⅜ / 66 ⅞ in
29 ⅞ / 33 ⅞ in
XS
38
62 ⅝ / 66 ⅞ in
31 ½ / 33 ⅞ in
S
40
62 ⅝ / 68 ½ in
33 ⅛ / 35 ⅜ in
M
42-44
63 ¾ / 70 ⅛ in
34 ⅝ / 37 in
L
46
64 ⅝ / 70 ½ in
37 / 39 ⅜ in
XL
48-50
65 ⅜ / 70 ⅞ in
39 ⅜ / 41 ¾ in
XXL
52
66 ⅛ / 71 ¼ in
41 ¾ / 44 ⅛ in
3XL
54
66 ⅛ / 71 ¼ in
44 ⅛ / 47 ¼ in