Spidi "Hoodie Armor Lady" Women's Jacket
The new SPIDI Hoodie Armor Lady is the women's version of the popular men's model. The CE prEN 17092-4:2017 Class A certified jacket has a built hood, removable CE Level 1 Warrior Lite armor in the shoulders and elbows, with optional Warrior back protector (CE Level 1 En 1621-2:2012). The Hoodie Armor Lady has an abrasion-resistant Softcell fabric chassis with a microfiber liner, and reflective details for added nighttime visibility. Both the hood and waist have drawstring closures to keep the jacket firmly in place even at higher speeds, and the cuffs are knitted fabric for all-day comfort. Sizing is available from XS through to XXL
MATERIAL:
More and more products are now made using fabrics. Cowhide, excellent material for the production of motorcycle apparel, is being replaced by lighter, less expensive and easier to wash materials; therefore the challenge is to find an equally durable fabric. Spidi dedicated a lot of resources to find the best materials to equip riders and therefore created a standard to identify the best fabrics: TexTech.
The peculiar TexTech has water repellency, perspiration, windbreaking, shear strength and abrasion resistance. Each supply is tested by the SAFETY LAB to ensure the required performances. The TexTech technology is applied to all the products with textile materials, except for the H2Out category. All these fabrics are studied by SPIDI in collaboration with the best producers in the world. The lifestyle of people traveling on two wheels is dynamic and active, it is important to stay protected wearing the best materials, TexTech is the answer.
BODY MEASUREMENT CHART
Measurements are to be taken without any clothes.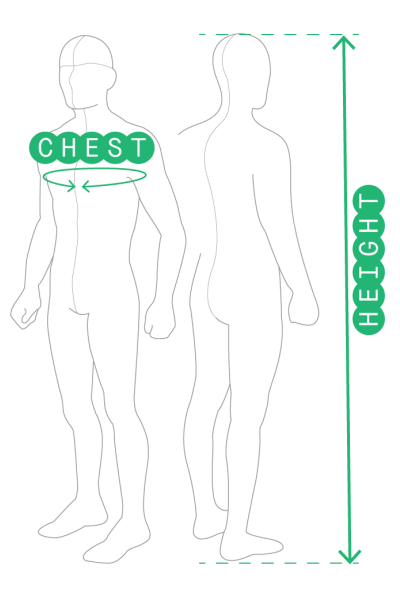 Man
Size
Height
Chest
XS
44
63 ⅜ / 68 ⅛ in
32 ¼ / 34 ⅝ in
S
46
64 ⅝ / 69 ¼ in
34 ⅝ / 37 in
M
48
65 ¾ / 70 ½ in
37 / 39 ⅜ in
L
50-52
66 ⅞ / 71 ⅝ in
39 ⅜ / 41 ¾ in
XL
54
68 ⅛ / 72 ⅞ in
41 ¾ / 44 ⅛ in
XXL
56-58
69 ¼ / 74 in
44 ⅛ / 46 ½ in
3XL
60-62
70 ½ / 75 ¼ in
46 ½ / 48 ⅞ in
4XL
60-62
70 ½ / 75 ¼ in
48 ⅞ / 51 ⅛ in
5XL
60-62
70 ½ / 75 ¼ in
51 ⅛ / 53 ½ in
6XL
60-62
70 ½ / 75 ¼ in
53 ½ / 55 ⅞ in
Woman
Size
Height
Chest
XXS
36
61 ⅜ / 66 ⅞ in
29 ⅞ / 33 ⅞ in
XS
38
62 ⅝ / 66 ⅞ in
31 ½ / 33 ⅞ in
S
40
62 ⅝ / 68 ½ in
33 ⅛ / 35 ⅜ in
M
42-44
63 ¾ / 70 ⅛ in
34 ⅝ / 37 in
L
46
64 ⅝ / 70 ½ in
37 / 39 ⅜ in
XL
48-50
65 ⅜ / 70 ⅞ in
39 ⅜ / 41 ¾ in
XXL
52
66 ⅛ / 71 ¼ in
41 ¾ / 44 ⅛ in
3XL
54
66 ⅛ / 71 ¼ in
44 ⅛ / 47 ¼ in